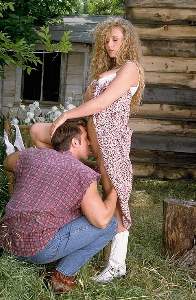 Jenny raced down from the porch of the log cabin and threw herself into Mike's arms. It had been three weeks since they'd seen each other, and now they were alone for the whole weekend.

He kissed her hungrily, his strong arms surrounding her in a circle of warm love. She'd missed him so much…

Suddenly he was kissing her eyes, her ears, her neck, and then he was unbuttoning her cotton dress like a man possessed. She smiled with pleasure and let him undress her, secure in the knowledge that her cabin was so secluded no passers-by would see them.

He nudged the dress from her shoulder and kissed her there, then eased it down to her waist. He cupped her breasts and kissed her neck, sending shivers down to her boots. She loved the way he used his hands… and his mouth.

She reached over and began to unbutton his shirt, and then to loosen his belt. He wore jeans so well… but she wanted him out of them. He helped her take his pants off, until he was naked and proud before her. His cock was long and slightly bent at the end; an idiosyncrasy she adored.


Soon he was sucking on her clit like it was a piece of fruit...
He turned his attention back to her, removing her bra and taking each nipple in his mouth, swirling his tongue around the aureole and sucking them until they hardened. She felt wetness spreading through her panties, and she was ready for his cock.

He slid the dress down over her waist and gently pulled her panties aside for a look at her cunt. He smiled as he admired. After a moment he stood up and ushered her to the old stump under the tree. There he removed her panties with a flourish, and sat her down, opening her legs to admire her cunt again.

She leaned back and watched him, glorying in his handsome face that was so full of love for her. He moved in and ran his tongue around the edges of her slit, teasing her so she moaned. He flicked it in and out, like a lizard, making her beg him to really please her, until finally he shoved it fully into her hole, and then began to lick her in earnest.

She lay back and opened her legs to the sky, allowing him full access to her dripping pussy. He covered her cunt with his mouth, using every inch of his tongue to lick her from clit to ass. Then he pulled back and lightly whipped her clit with it, barely touching the throbbing node, and she wanted to scream and demand he finish her off. Soon he was sucking on her clit like it was a piece of fruit, before he finally settled in to the long, fast lapping that he knew would bring her to the edge.

The orgasm came in stages. It hit her clit first, and then expanded into her cunt, before making her whole pelvis glow. Then the shivers spread out from her stomach, and into her limbs, before the ecstasy hit her face and she smiled in pure pleasure.


A cloud came across the sun, and she remembered where she was. The stump was jutting into her back, and Mike wasn't done yet.

"Come inside," she said. "The bed's more comfy."

He shook his head. "Over here," he gestured. "Under the tree. The grass is nice."

He led her to the tree and sat down. She straddled him, covering his face in kisses, and then slowly lowered her smooth wet cunt onto his cock. It entered like a shaft of heat, and she welcomed it with a lazy smile. She began to move carefully, letting herself slide up and down smoothly, savouring the feeling. His face became suffused with a glow of sensuality, as the pleasure took him away from himself.

Slowly and gently she worked him towards orgasm, glorying in the view of him and enjoying her power to give pleasure. His hands were on her hips, guiding her up and down, feeling the soft flesh of her buttocks. Too soon he wanted her to speed up, and she acquiesced, increasing her rhythm and bringing him closer to the edge.

It built, and built, and finally he came, with a great shudder and a sigh. "I love you," he breathed as the orgasm released him, and he lay back, spent.

They lay together under the tree, watching the birds flit by, happy in each other's arms. At last she felt the need to move.

"Come on. We haven't even taken your bags in yet."

"What's the rush?" he said, stroking her forehead. "We've got all weekend."

" onmouseover="window.status='http://www.forthegirls.com/';return true" onmouseout="window.status=''; return true">